Product Description
D-Link AC1750 High Power Wi-Fi Gigabit Router (DIR-859)
The AC1750 Wi-Fi Router (DIR-859) comes with high power amplifiers that will deliver extreme Wi-Fi coverage to all your Wi-Fi devices. With wireless dual band speeds of 450 and 1300Mbps, the DIR-859 avoids interference to deliver the fastest wireless speeds, improved coverage and reliable connections.. The DIR-859 also comes with a new user interface so controlling your network is easier than ever. You can get online in minutes with the Quick Router Setup (QRS) app. The DIR- 859 is a robust router solution that will give you a better signal throughout your home.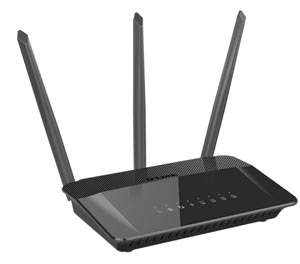 AC1750 Wi-Fi Performance – up to 1300Mbps and 450Mbps
Extreme coverage – high power amplifiers and external antennas
Gigabit Ethernet Ports – ultimate wired connectivity
Easy Setup – mobile app or intelligent web browser interface
Guest Zone and Dual Active Firewall – security features to help keep you safe
AC1750 Wi-Fi Router
The ideal router for extreme Wi-Fi Coverage and maximum performance for HD streaming and gaming.
Why You Want it
Superior Wi-Fi Performance
AC1750 for Gigabit Wi-Fi speeds
Gigabit Ethernet
Wired performance 10x faster than traditional Fast Ethernet
Dual Band
Interference-free Dual Band Performance
Intuitive User Interface
Controlling your network is easier than ever
High Power Amplifiers
Wider coverage throughout your home
Quality of Service
Traffic Optimization seamless performance for your applications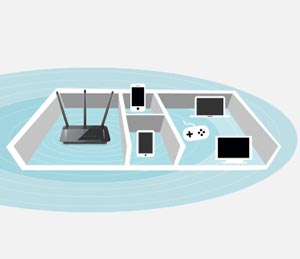 Extreme Wi-Fi Coverage
Bring Wi-Fi coverage to your devices to the max. The DIR-859 avoid interference to deliver the fastest wireless speeds, improved coverage and reliable connections. You can do multi-player gaming. HD streaming, file transfers, video chat, email, and web surfing all at the same time.
More than just a regular router
With its built-in high-powered amplifier, and AC technology you can enjoy wireless coverage throughout your home. Watch videos in an upstairs room. Skype from your home office or browse and stream from your couch – with the DIR-859 you can connect wherever and however you want.
Do More With Dual-Band Technology
Use the 2.4Hz band with for everyday tasks, while leaving the high-speed 5 GHz AC band free for HD video streaming, online gaming and large file transfers.
With fewer devices using the high-speed 5 GHz band, there's less interference and congestion, giving you better performance and a lag-free wireless experience.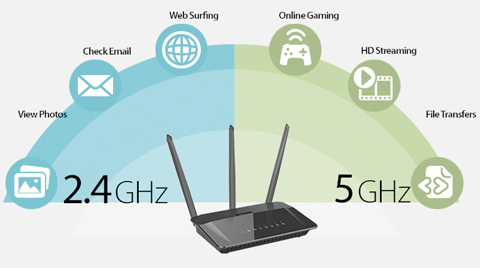 New User Interface
Controlling your network by enabling parental controls, blocking unwanted devices, monitoring internet activity and creating Wi-Fi guest networks is easier than ever with our new interface.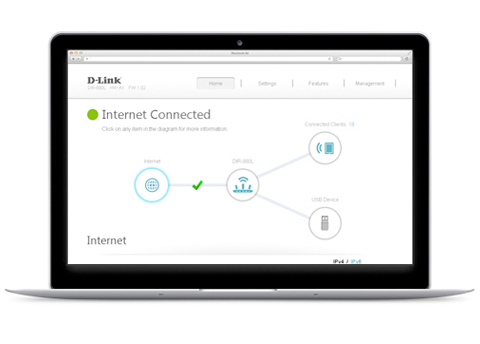 Smart Connection
Gigabit 4 Lan Ports: Connect up to 4 wired device
Internet Wan Port: Plug your internet cable here
WPS Button: Push to Connect
Additional Features

11AC Wi-Fi
– World's fastest Wi-Fi speeds of up to 450Mbps (2.4GHz) + 1300Mbps (5GHz).
Gigabit Ethernet Ports
– Ensures the best wired online experience for HD streaming and gaming.

Whole-Home Coverage
– 11AC technology extends wireless range further than with Wireless N.
High-Powered Antennas
– 3 external antennas amplify wireless signal.

Traffic Prioritization
– Advanced QoS engine distributes traffic optimally across both wireless bands to guarantee the best performance.
Dual-Band Technology
– Decreases wireless interference and congestion, allowing you to connect more devices.

Parental Controls – Create online access schedules and block/allow specific websites and/or devices.
Guest Wi-Fi Network – Enable a public or encrypted wireless guest network.
Secure Wi-Fi Encryption– WPA/WPA2 provides highest level of wireless security.

Easy To Install – Installation wizard manually walks you through setup in minutes.
Quick Router Setup (QRS) App – Easy setup app for smartphones and tablets.
WPS Push Button Setup – Quickest method of connecting devices with the push of a button.
Zero Configuration – Once router is setup, other D-Link Zero Configuration devices can easily and instantly connect.